life was once much easier. before i developed interest for heels i had no dilemma. i was always in flats. balleflats, sneakers, boots, you name it, ive got it. but heels... i dont think so.
ups. to correct myself, i didnt think so until i caught myself spying on some extraordinary shoes. i set my mind to buy a perfect pair of boots. i was thinking on military lace up something, but not to high. i was browsing trough the net (as you could read
here
) and spying on some lovely pairs, but they were all just too high for me.
than i stumbled upon these beautiful wedges @bershka. they were all i craved for. comfy yet stylish. so, guess who walked in heels to work today?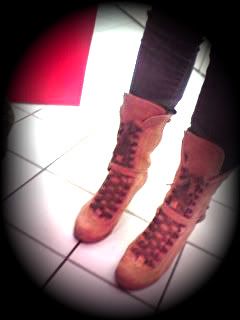 how was it? well, i loved the feeling, and how tall i was. i loved how my legs looked in heels. i loved it, i admit. even though i walked slowly, trying not to show it was my first time in wedges, i think i nailed it :P